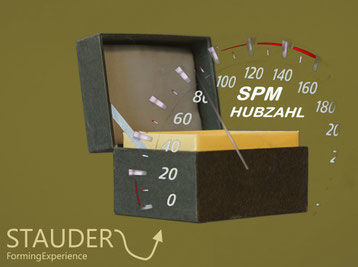 Not only since servo presses have been widely-used for sheet metal forming, productivity in stamping plants is largely determined by the settings of the press line, i.e. the interaction of coil/blank feeding - slide movement - part transfer and part removal.
Flexibility has always been one of the greatest demands on automatic stamping and forming presses. A wide range of setting options and parameters significantly determines the following parameters:
Quality of the formed part
Tool life for more availability & OEE
Reduce energy demand, save resources
Increase stroke rate for productivity
In reality, set-up personnel rarely make use of the possibilities of the respective press line. The reasons for this are manifold, but often due to a lack of know-how.
Another serious obstacle is the lack of experience. Setting up and creating an optimal tool receipt is a process that usually only needs to be done once, when the tool starts up or when the tool is relocated.
All in all, this leads to the all too often heard statement in stamping plants: "We don't have time for optimization - the machine is running", which cements the daily loss of productivity.
This can be attributed to a lack of know-how and experience or simply to a lack of set-up personnel.
Proper setup is not a never ending and very time consuming story. Maximum output and an optimal production process are also within your grasp.
Because optimal setup is a service offered to you as a remedy, basically on demand. Your advantages are at a glance:
Expert knowledge from over 10 years of experience in press development
Many years of experience in process optimization
Flexible and available at short notice
Feedback & further training of own set-up skills