Identify the stroke rate potential of a tool design at a glance. Making the right decisions and actions when reviewing a tool design does not always take a lot of time.
Your significant benefit out of that is, you can set the course right in the early and initial stages of tool design!
No, I do not want to give any advice and ideas for your next vacation. Rather, I'm concerned with an easy approach, enabling you to design and evaluate high-performance forming tools and thus fully exploit the performance of your (even future) servo press.
There are many aspects to be considered to a well running and state of the art tool design.
Free after Napoleon Hill - "Ideas are the beginning of all fortune" the draft and concept stage at the beginning of each new die design is the basis for a future die. Therefore, there is a lot to be considered.
There is a need to develop a method for the forming process. Having a flexible production line with coil line, 3-axis transfer and maybe even a destacker unit, one can decide on the type of part transportation: Progdie or a Transfer process? On this basis, the production plant can be selected. As a next step on choosing the right machine, it is necessary to evaluate the required forming forces and energy with the characteristic values of the machine for admissibility. By selecting suitable standard parts, the correct lubrication and coating of active parts, one can meet the requirements of forming/die velocities. And then it is still somehow necessary to place all elements in a die, that it does in future it's job: brisk, well and collision-free.
To make here the right decisions it requires not only experience and expertise, but also a good deal of time.
But, the stroke rate potential of a die can be determined at a glance. All you have to do is, to stand in front of the press line or to take a look on the side view of the die's CAD data. Now take to look at the "elevation profile" of the opened die. What do you recognize here?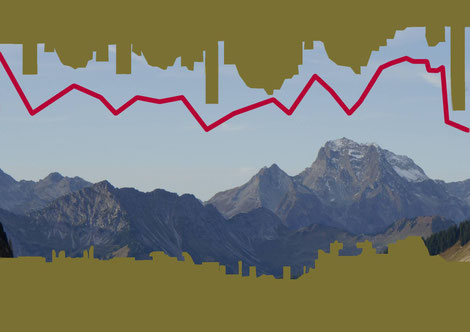 If the columns and guides of the upper tool have different lengths, distance blocks or die storage elements are positioned within the motion areas or the sheet metal parts are lifted to different levels, the impression of the elevation profile of the Alps or Rockies can come up. And what goes hand in hand in nature with danger, path lessness and a lot of sweat means for the production:
Increased effort in the clearance investigation and when setting up
==>

danger of collision

Larger travel distances for transfer and higher ram stroke
==>

reduction of stroke rate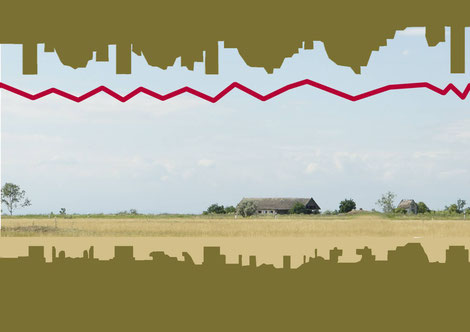 Remedy would be so easy in the planning stage. Be sure to lift the components to the same level. Furthermore, it is important to make the guide elements in the upper die as short as possible.
This is done without sacrificing guide length by lifting the guide bushes. As a guideline, the bushes should be raised just below the component level.
By these simple guidelines you will obtain a die according to the height profile of the North German lowland or the Great Plains of central US.
And what are your benefits? No extra costs for the die. Less time for collision evaluation, less setup time on the machine, and significantly more finished parts due to higher press and transfer stroke rates.
Would you like to learn more about the matters of optimal and time-saving forming die design? Would you like to empower your employees to independently identify and implement improvement potential?
I might have something of interest for you:
Workshop:
Press specific and output optimized die design
Contents:
Press characteristics like nominal force, working capacity and admissible off-center loads and their importance for the die design

Part-flow planning and collision/interference evaluation: How to handle clearance/interference curves and avoid collisions

Standard part selection: Which parameters must be considered?
Facts:
Target group: die designers, die planners, die supervisors
Place: On site, international requests welcome, or in Germany at our premises
Duration: 1.5 days
Recommended number of participants: 4-8 persons
Don't hesitate to use the contact form on this page and I am looking forward to your soon request.